The MICC is pleased to announce the full lineup of pitching companies at the 2023 Annual market: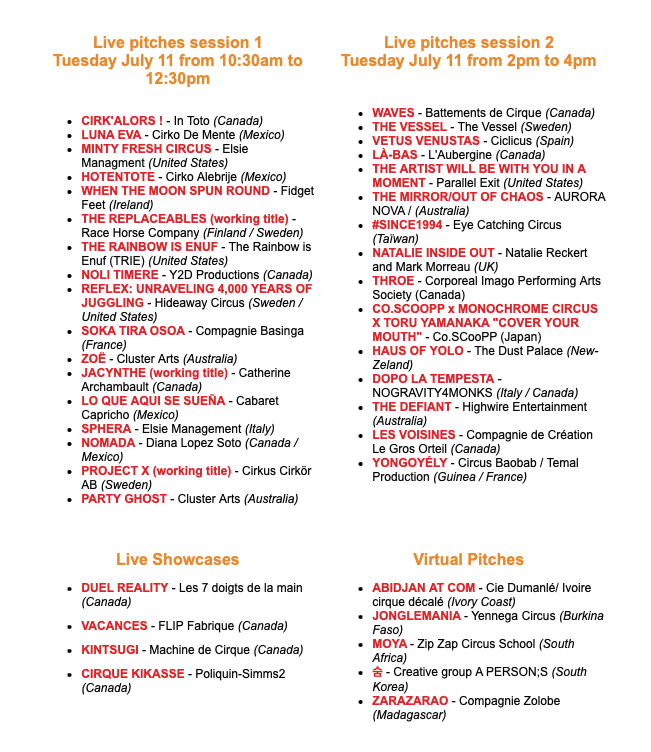 MICC Annual Market Pitch Sessions:
The MICC (International Market of Contemporary Circus) offers professional visibility opportunities to contemporary circus artists and companies seeking to tour full-length performances in this discipline. The MICC provides these opportunities as part of its efforts to develop, sustain, and invigorate artistic creation and touring for contemporary circus in North America and around the world.

Artists and companies working in the field of contemporary circus may submit their productions, both in the development phase and ready-to-tour, for consideration. Your application will be reviewed by a specialized jury, and selected projects will be invited to pitch to an audience of venue and festival programmers. These pitch sessions will take place at the MICC Annual Market in July 2023 in Montréal. Please indicate at the time of submission if you would be able to join us to pitch in person or if you propose to pitch virtually. Please note that in-person presence is highly encouraged and the option of pitching virtually is reserved for projects without access to travel subsidies.

Submitting a project is free. However, if selected, you must pay a registration fee for the Annual Market. Learn more about the MICC including membership and the Annual Market here.

Please note this opportunity is open to professional circus companies with a touring history. Individual artists will be considered if they regularly tour full-length circus works.